INCLUDING ARTS AND CRAFTS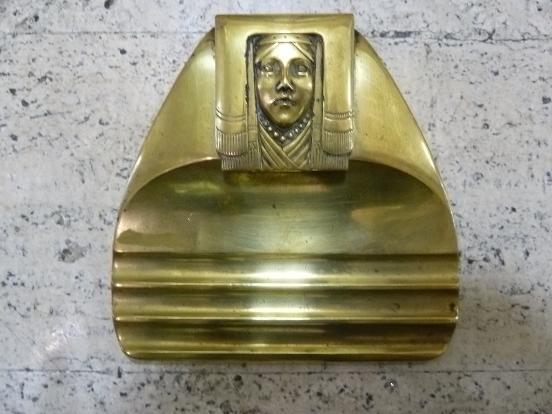 Sessessionist brass inkwell probably German 12cm long RESERVED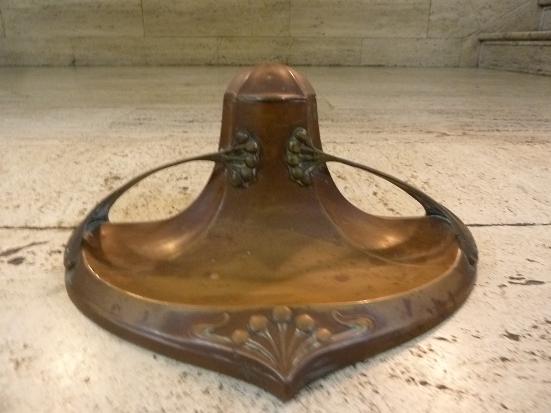 W.M.F Copper Inkwell £250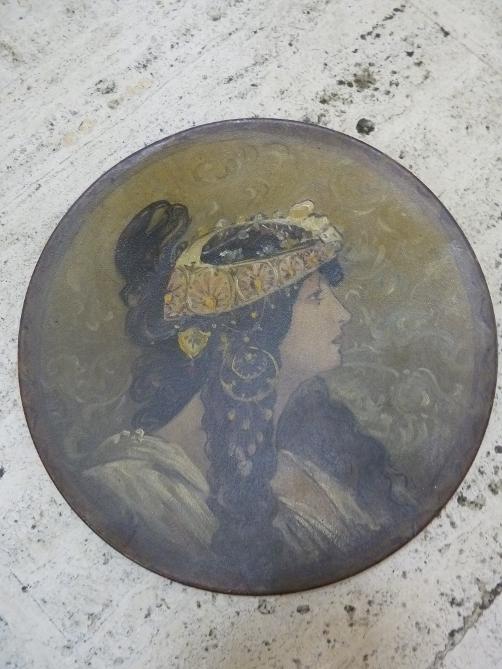 Alphons Mucha 'La Brune' 35cm diameter
This is a metal wall hanging hand painted after Alphons Mucha but contemporary to the Art Nouveau period. French Circa 1905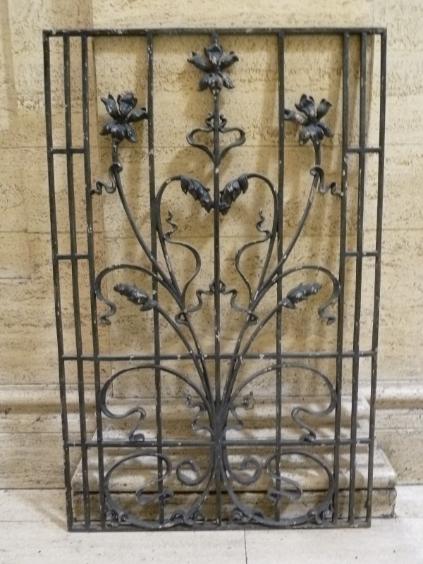 I have several cast iron panels of this French art Nouveau design. £295 each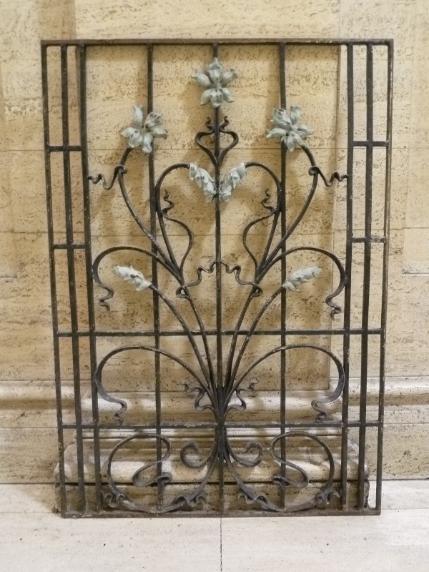 This Art Nouveau panel is 100cm by 70cm wide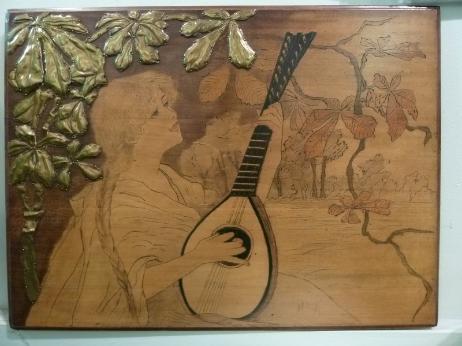 Marquetry Panel 40cm by 34cm with brass applique £190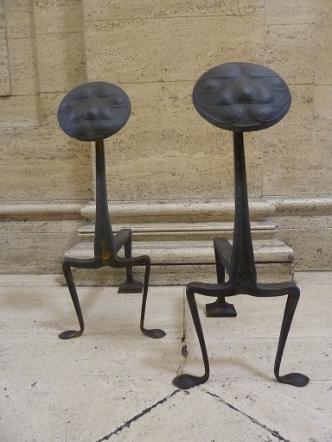 Arts and Crafts Andirons 21 inches high £350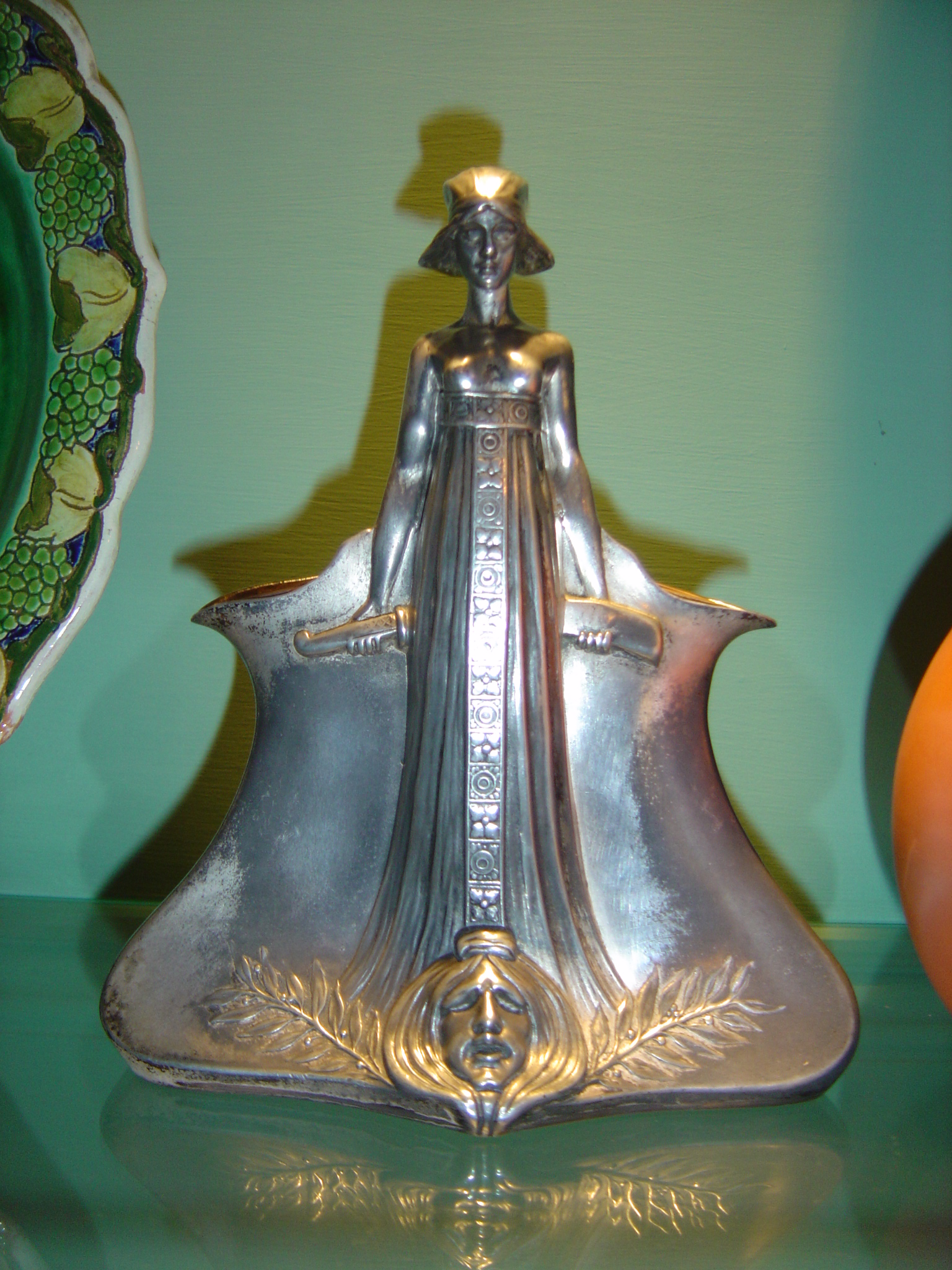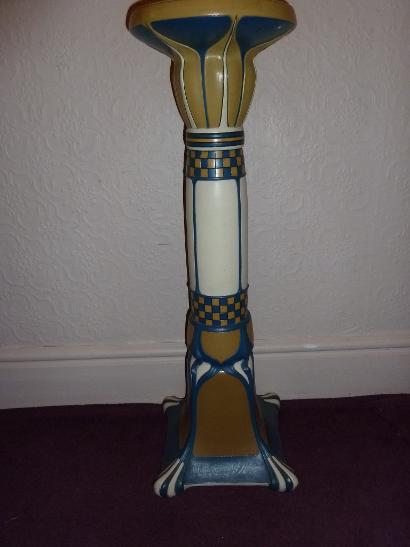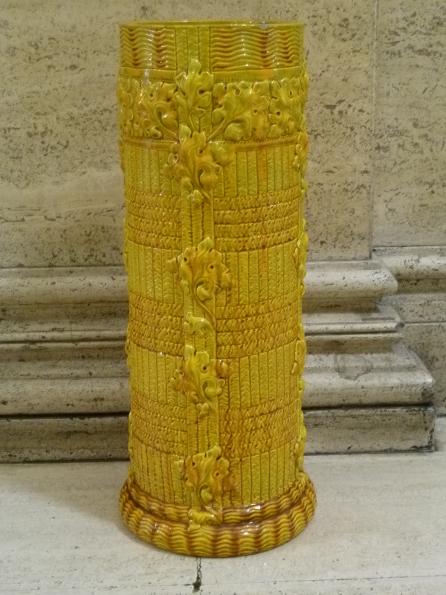 Burmantoft Stick Stand 58cm high £350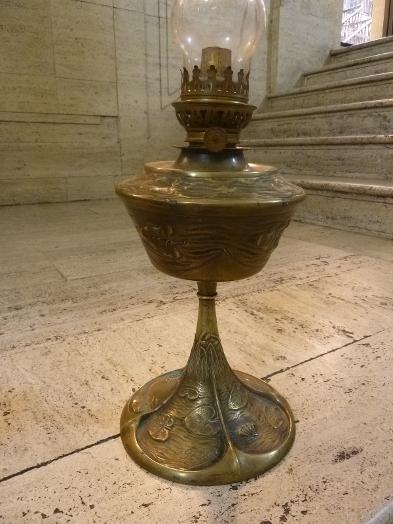 Oil Lamp 35cm high signed G. Lelue Circa 1905 £650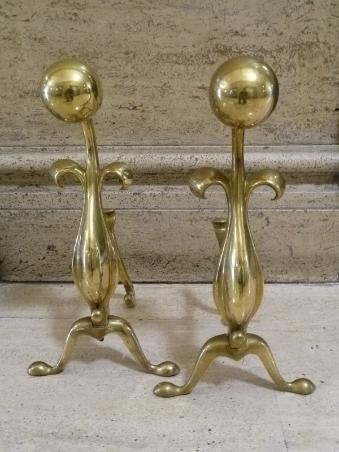 Art Nouveau Brass Andirons 44cm high £250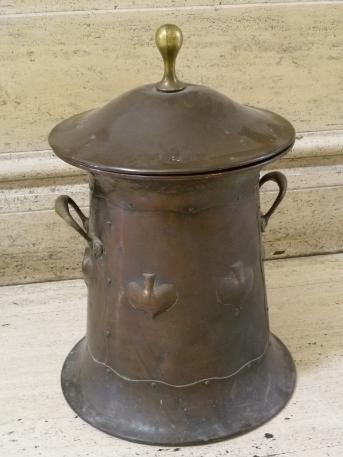 Copper Coal Bucket In the manner of Voysey
51cm to finial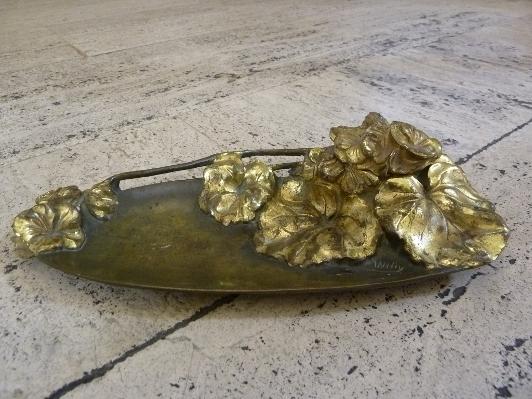 Bronze Inkwell signed in the bronze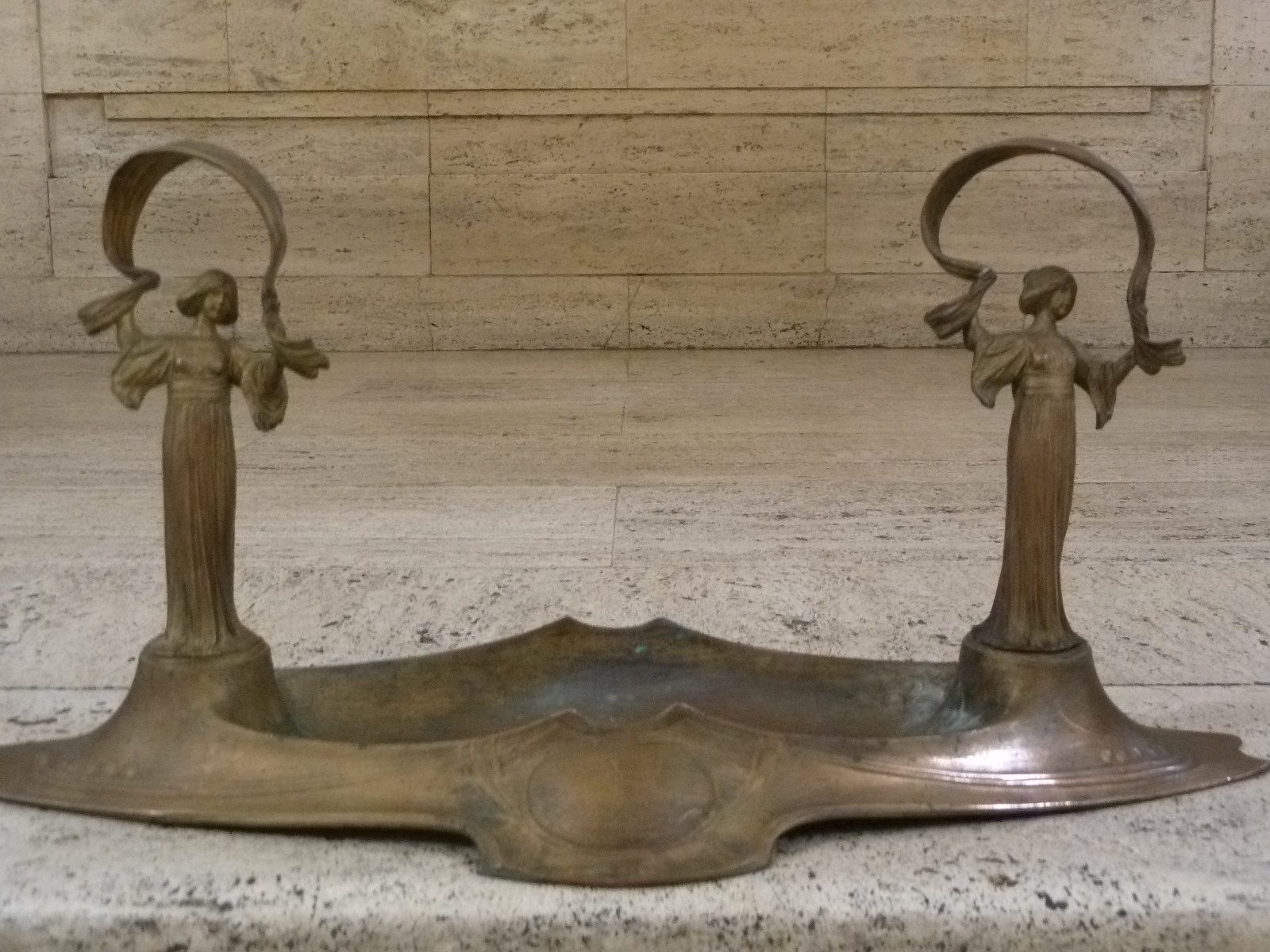 Art Nouveau gilted copper centrepiece 50 cm long by 23cm high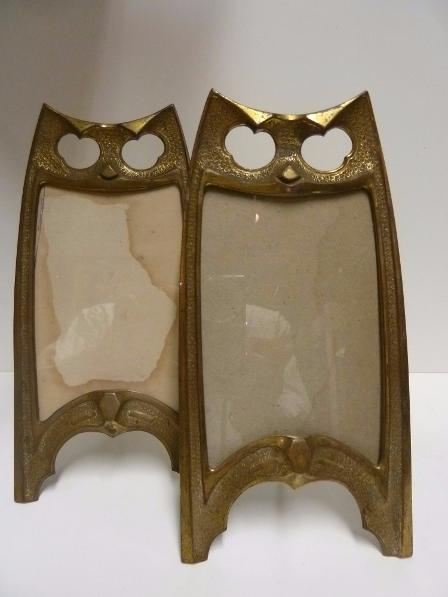 Pair of Art Nouveau Picture Frames In the guise of Owls 26cm high.
There is some staining on the card background which will not be visible when covered or replaced.
Possibly German. Reserved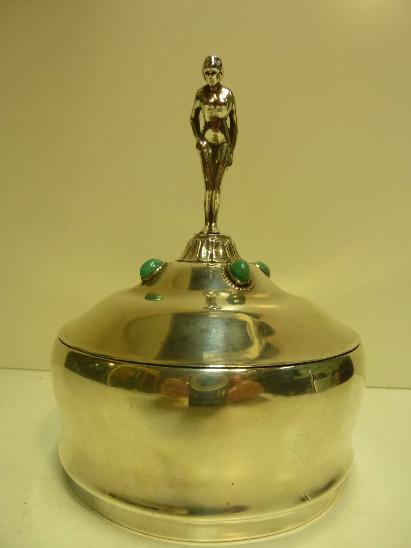 Silver box and cover by Ernst Riegel (1871-1939). 14.5cm high.
Riegel studied Sculpture at Royal College of Fine Art Munich. Became member of Deutscher Werkbund. Designed Chain of Office for the Mayor of Darmstadt.
Moved to Cologne in 1913 to teach gold and silver forging. SOLD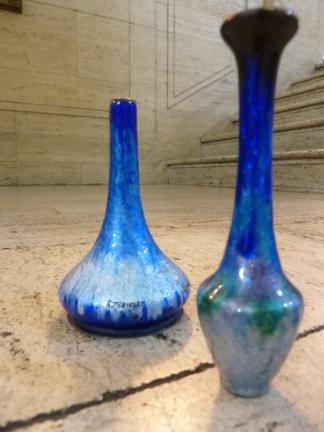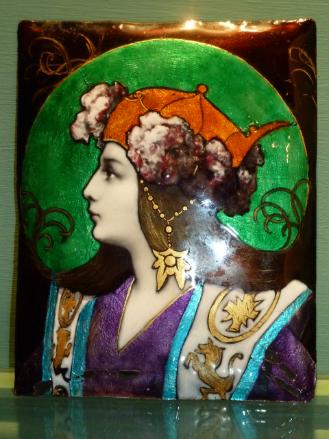 Beautiful enamel work SOLD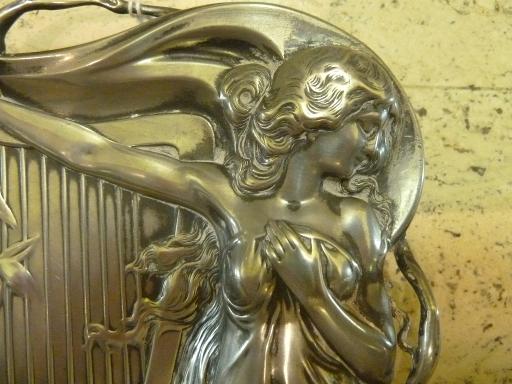 WMF Art Nouveau Card Tray Circa 1900. Silver Plated Continental
22cm high SOLD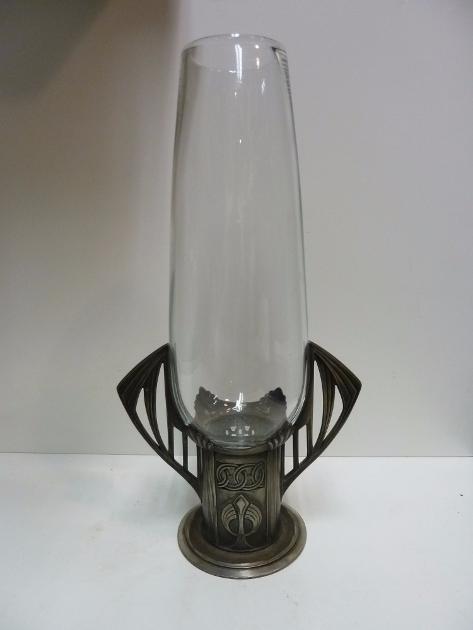 WMF Vase 33cm high. Circa 1900. Pewter with original glass liner. German. SOLD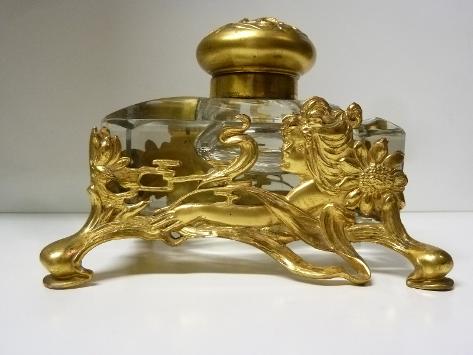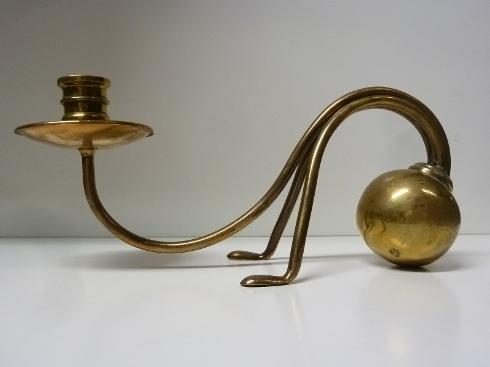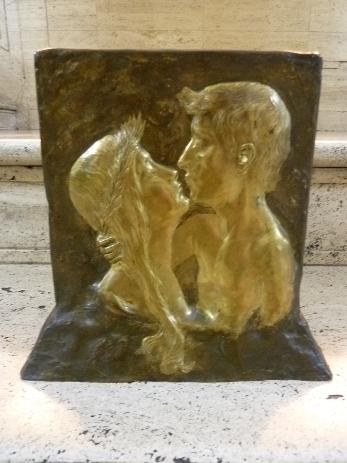 LOUCHET Bronze signed has the foundry mark
Cruet Set Designed by Dr Christopher Dresser for Hukin & Heath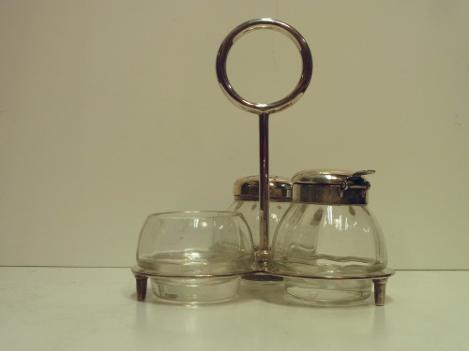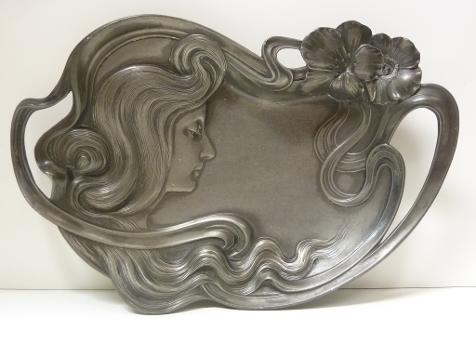 WMF Tray 22.5cm long SOLD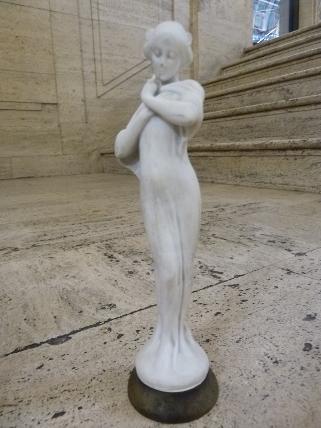 Bisque figurine 21cm high
Continental SOLD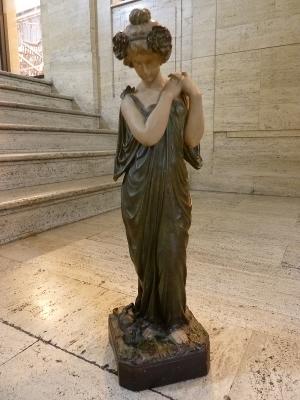 A Terracotta Study of a Art Nouveau Lady. SOLD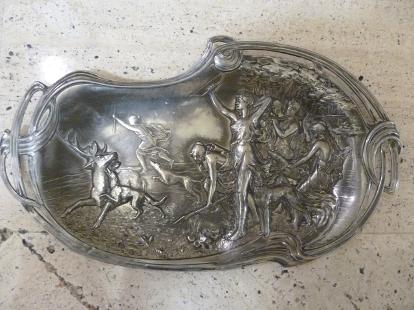 WMF Pewter tray Diana The Huntress 41cm wide SOLD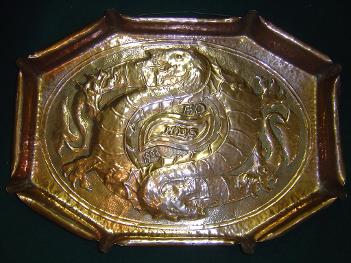 Arts and Crafts Copper Tray, designed to hang. Nice work, of a sea dragon, pressed and beaten, in a Newlyn Style SOLD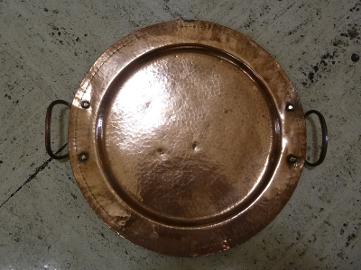 Roycroft (signed) Tray SOLD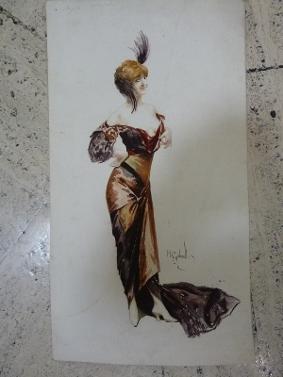 Watercolour signed H. Gerbault (unframed) 50cm highSOLD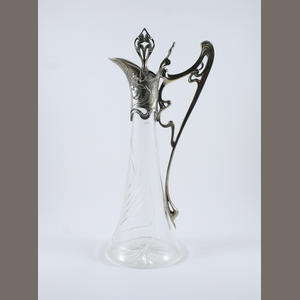 WMF Decanter 36.5cm high SOLD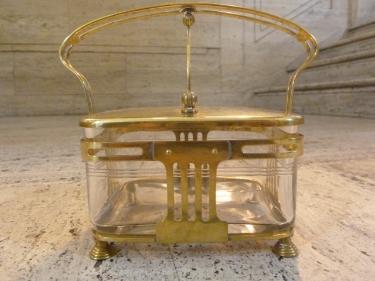 WMF brass and etched glass casket with a unusual hinge mecanism connected to the handle. Marked. SOLD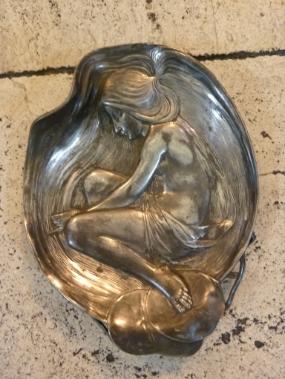 Small W.M.F tray unsigned SOLD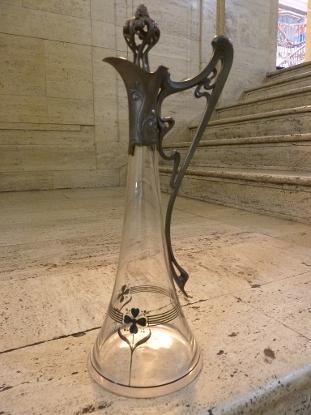 W.M.F Decanter with beautiful simple design on the glass. 40cm high SOLD
Art Nouveau Copper Trinket/Card tray 20 cm long SOLD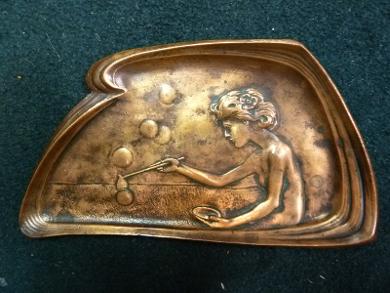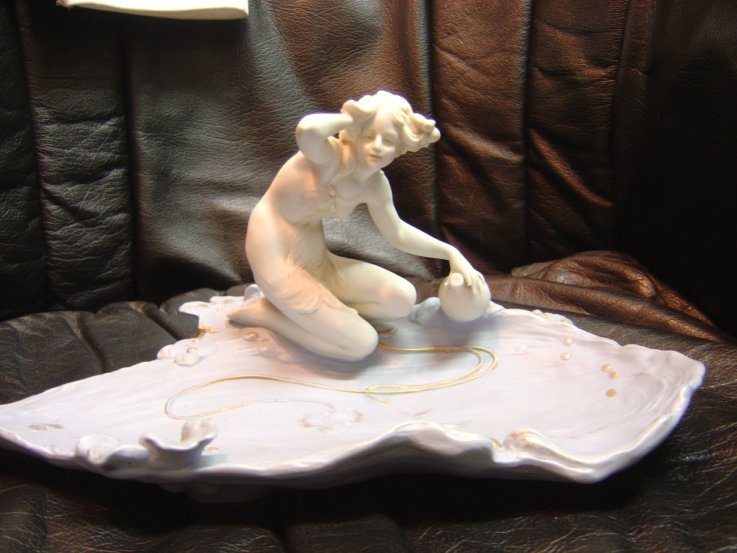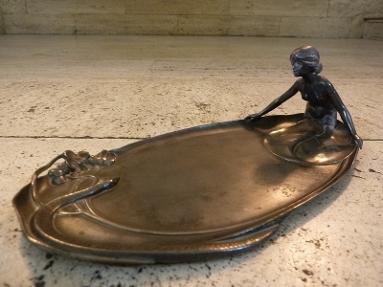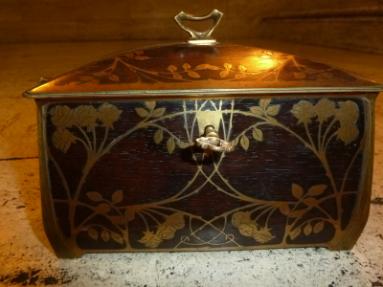 Erhard und Sohne
Brass Inlaid Rosewood Box Beautiful work SOLD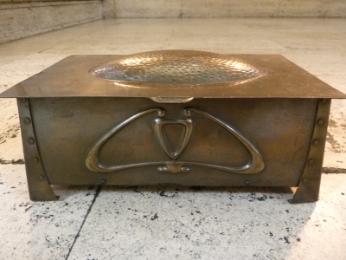 Art Noveau copper box SOLD