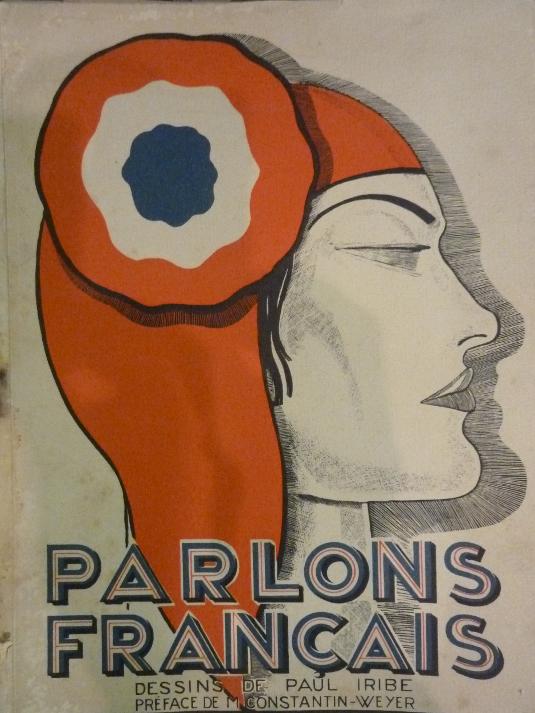 Parlons Francais Dessins De Paul Iribe.
I had sold this exact edition signed by Paul Iribe some time ago and have just bought it in again.
Paul Iribe was Coco Chanel's Lover from 1931 until his death. It is assumed that she financed the publication of this hard hitting illustrated limited edition work.
£350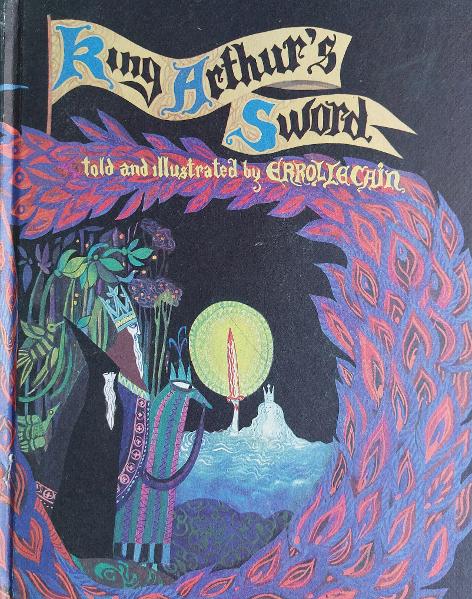 King Arthurs Sword Illustrated by Errol Le Cain. 1968
A charming book £265. The artwork is great.
A bit of wear commensurate with age but overall not too bad.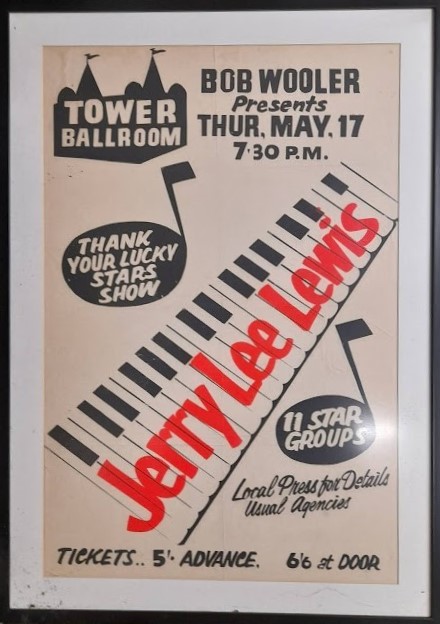 Original Poster designed by Tex O'Hara for a Historic event.
20 by 30 inches. See Pictures or Read more Here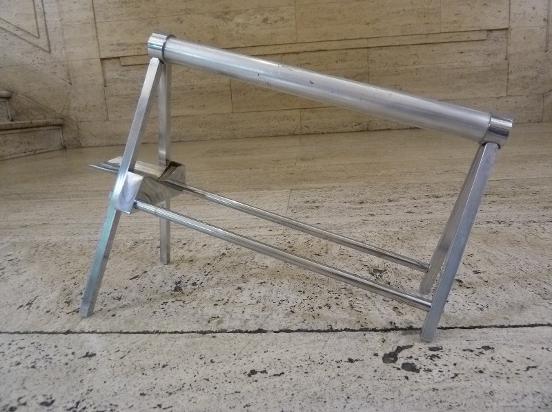 Jaques Adnet Wine Bottle Holder £425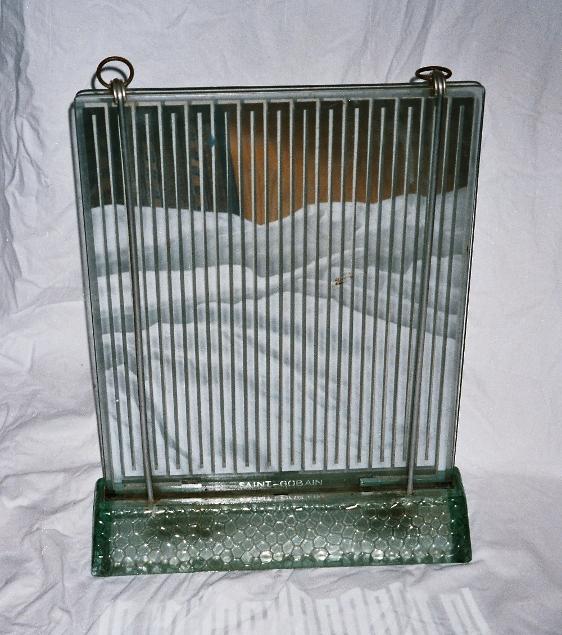 René-André Coulon (French, 1908-1997) for Saint-Gobain
Glass radiator, designed 1937
Tempered, moulded and mirrored
marked 'Saint-Gobain' to the base.
56.5cm high, 42cm wide.
René Coulon (together with Robert Mallet-Stevens) designed a Pavillon for Saint-Gobain at the 1937 Exposition Internationale des Arts et Techniques dans la view Moderne, where the radiator was exhibited for the first time. £430
No longer available.
PUIFORCAT Paris. Silver and Glass Desk ornament by the master of Art Deco design.
10cm Diametre.
Signed In The Silver PUIFORCAT.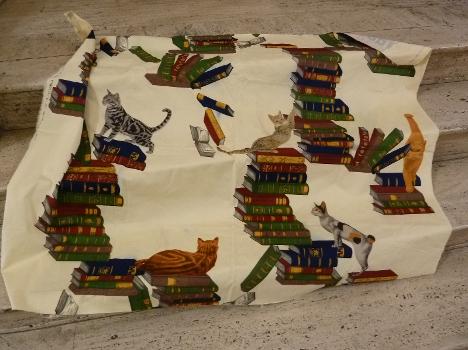 Fornasetti Fabric Cats and Books £290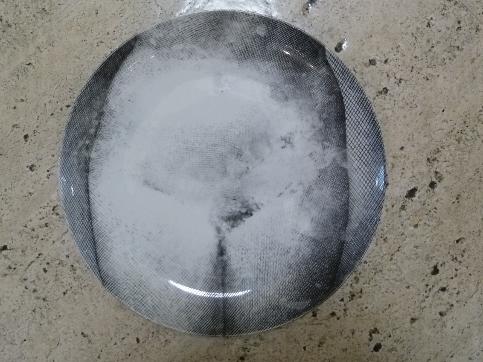 French Dinanderie Vase 12cm high. 1930s Art Deco Geometric pattern.
dinanderie is fine cast metalwork objects, esp of bronze, made in the Belgian city of Dinant from the late Middle Ages, or other later metalwork in this style.
The tradition was brought back into the forefront of design in the 1930's by masters such as Claudius LINOSSIER and Jean DUNAND.
£380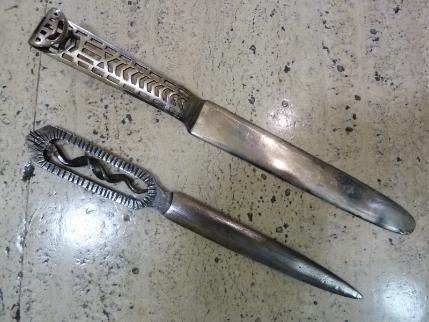 Art Deco Letter Knives (wrought iron one sold)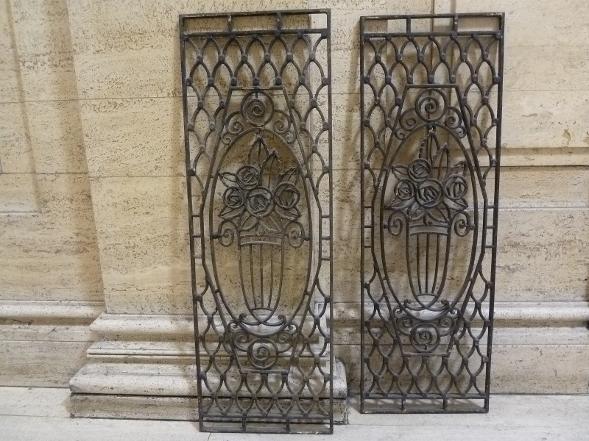 I have quite a number of Art Nouveau & Art Deco cast grills.
These panels 96 cm by 32 cm
£265 Each
Blue Funnel Line-Glen Line Silver Presentation Box.

This box was never presented and is in perfect condition.
It came from the last objects from the original Holts Line stores in India Building before the Holts Charitable trust vacated the building.
In 1911, Elder Dempster and Co acquired The Glen Line but it was sold to Alfred Holt's Blue Funnel line in 1935. By 1978 all Glen Line ships had been sold.

18cm long by 10 cm wide and6cm high.
Full set of hallmarks. For William Adams Barr Street Birmingham. 1943
Cedar Lined.
This has been in the vaults since made.There is hardly a mark on it. RARE.
No longer available sorry
Harry Bates.
Plaster plaque smaller than the work owned by Liverpool Corporation and now held by The Walker Art Gallery NML. This may be a study or a work licensed for sale.

Part of The Stoty Of Psyche. This is the central panel.

Born in 1850, Bates began as an architect's clerk and then worked as a mason for the marble merchants and carvers Messrs Farmer & Brindley.
Bates was part of a group of sculptors in London in the 1880s and 1890s who attempted to reconsider and to invigorate three-dimensional art.
This 'New Sculpture' was said to be working within the tradition of naturalistic figuration.

Bates was considered one of the central figures of this movement until his premature death in 1899, and the Pandora was one of his most ambitious and highly regarded sculptures. SOLD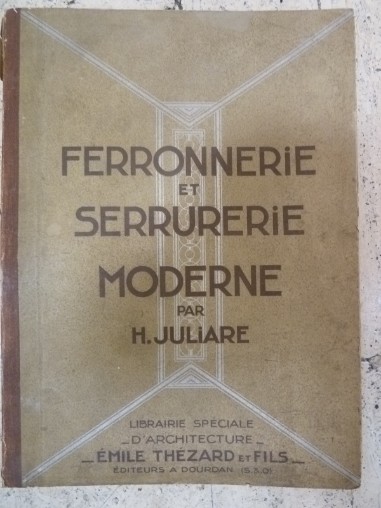 Bound Folder of 35 Plates SOLD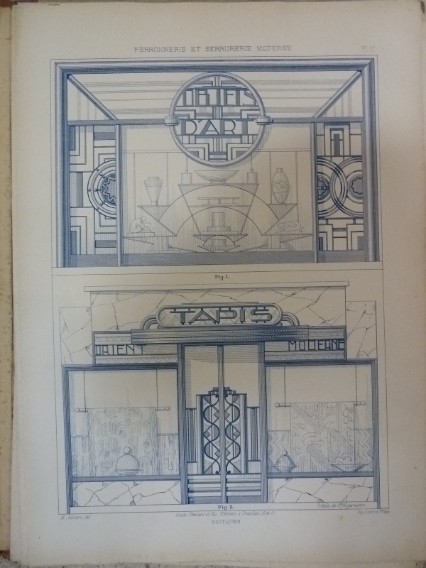 some amazing Art Deco Designs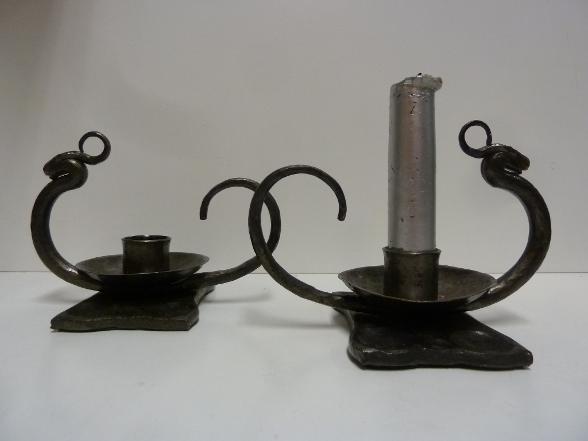 Pr of Wrought Iron candlesticks 10cm high.
The decoration has combined form with function the dimples in the iron and the tail are conveniently placed to assist carrying. £180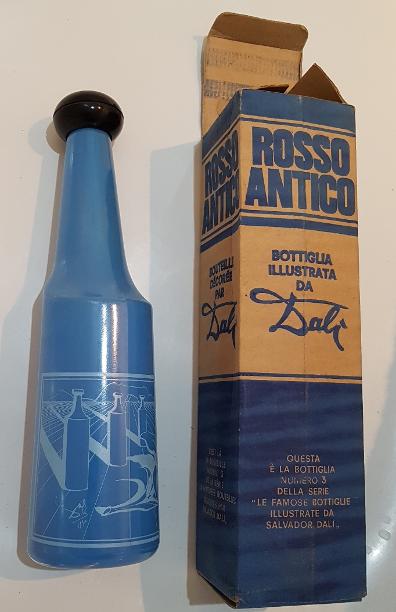 Designed by Salvador Dali for Antico Rosso.
Decanter Bottle with original box. One of set of three. This is no 2.
Own a piece designed by Dali for SOLD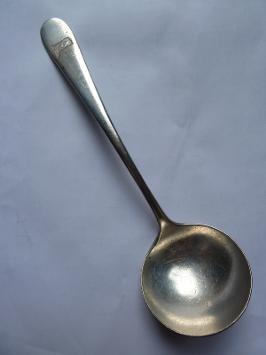 Soup Ladle with the Alfred Holt crest 18.5 cm long £45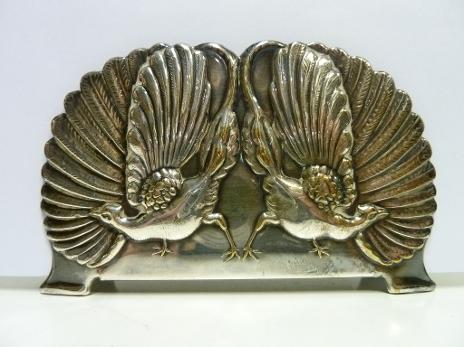 Letter Rack signed Th. Sorensen 7cm high. SOLD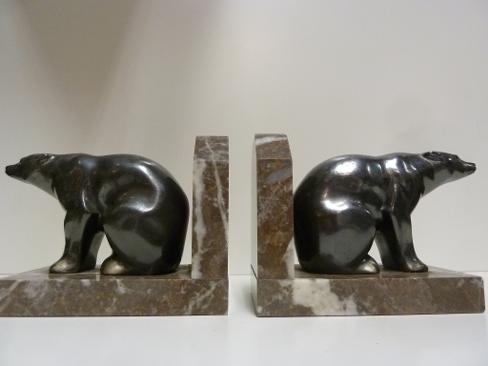 Pr of Bookends of stylized Polar Bears on marble base
11cm high by 13cm long French 1930's SOLD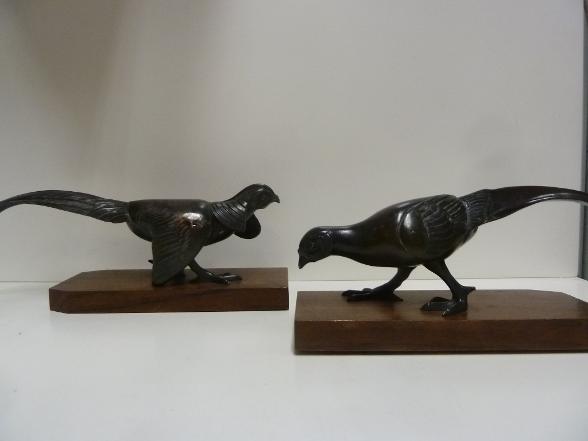 Pair of Bookends depicting male and female Pheasants on a wooden base £195
Reserved SOLD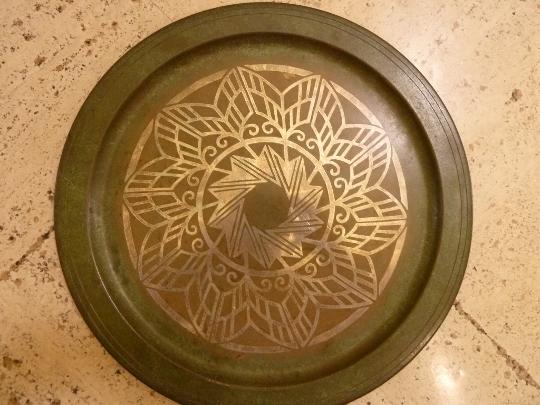 Christofle Dinanderie Tray French 42cm across. SOLD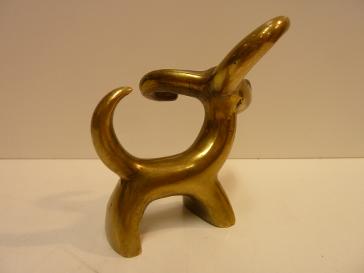 Hagenauer Bronze 7.2 cm high marked on the base. SOLD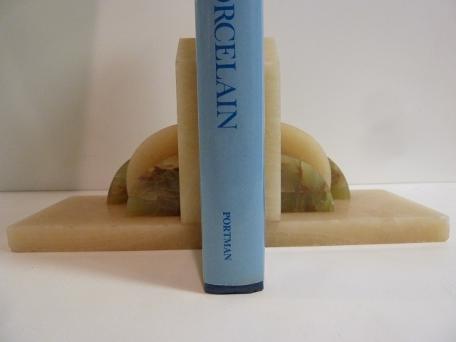 Pair of Art Deco White and Green Onyx Bookends 1930's French SOLD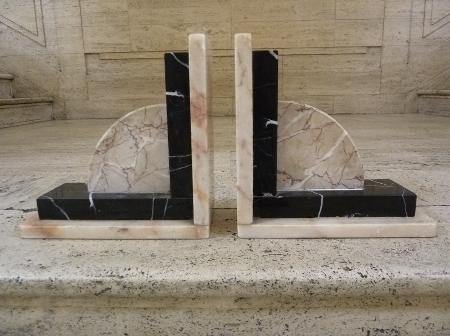 Marble Bookends 25cm high
French 1930 SOLD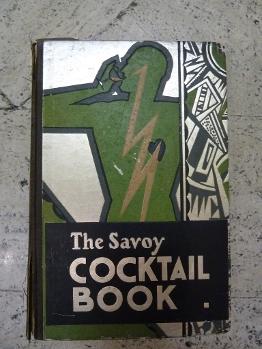 The Savoy Cocktail Book 1930 SOLD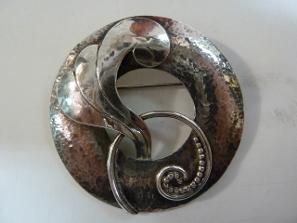 Silver Brooch 5cm Danish in style SOLD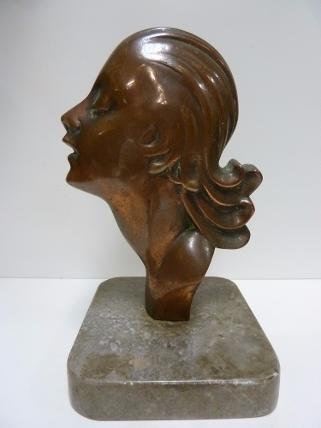 Art Deco Bronze Bust on Marble Base 20cm high SOLD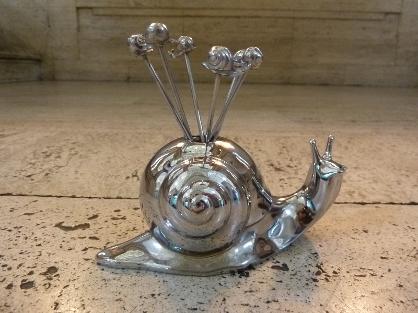 L'escargot 10cm long SOLD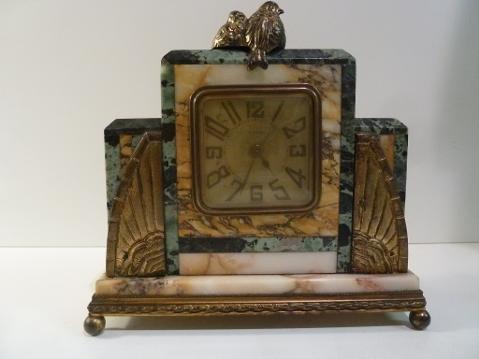 Art Deco Bronze and Marble clock 16cm high
French 1930's needs repair to movement SOLD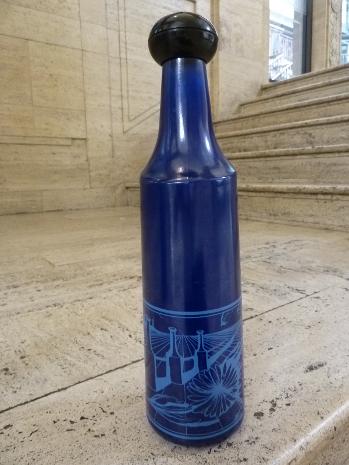 One of three bottles designed by Salvador Dali this one No 3 SOLD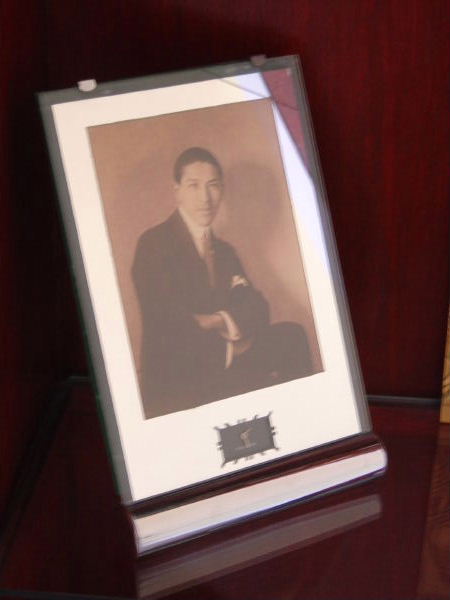 Jaeger Le Coultre Photo Frame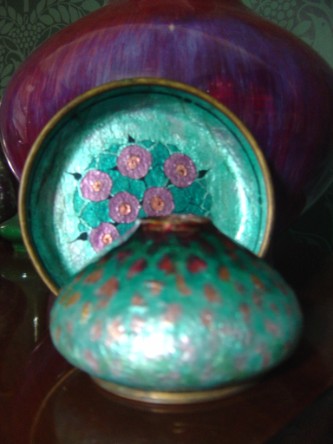 Limoge Enamel on Copper signed Marty SOLD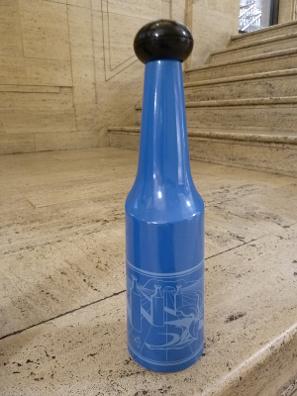 One of three bottles designed by Salvador Dali this one No2 SOLD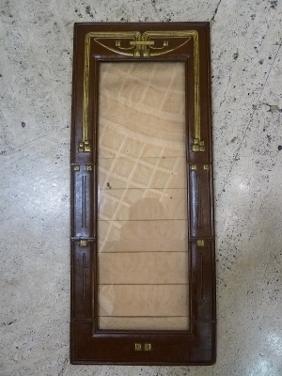 Tooled Leather Sessessionist Picture Frame
62cm high by 25cm wide SOLD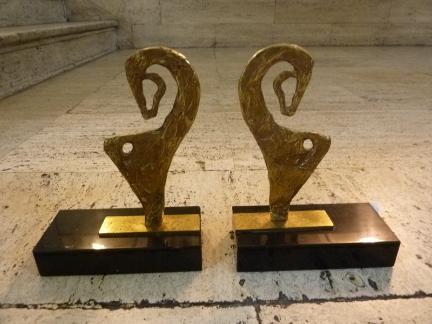 Pair of Bronze Modernist Bookends SOLD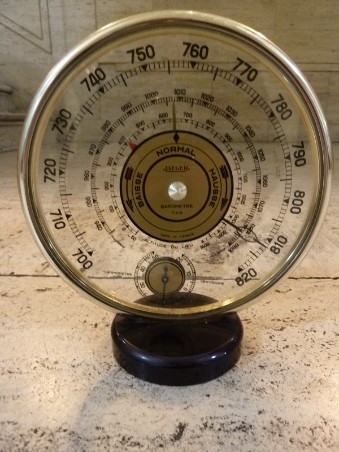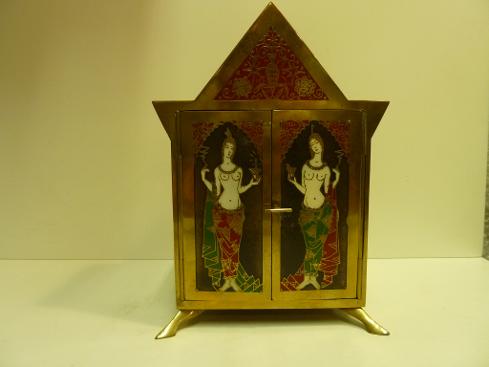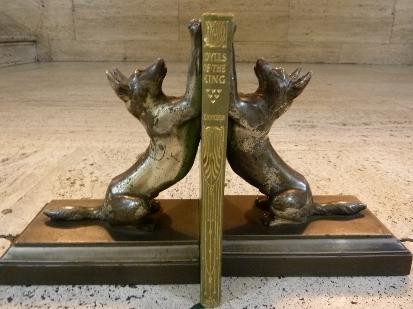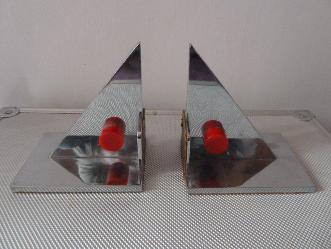 Modernist Bookends probably English Nickel Plated
with Red Bakelite decoration SOLD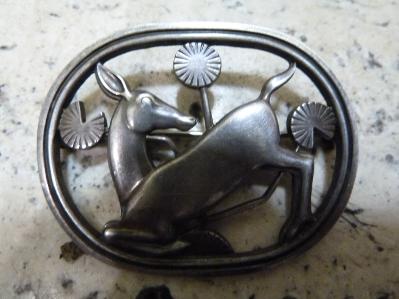 George Jenson silver brooch 4.5 cm across. This is a fantastic design SOLD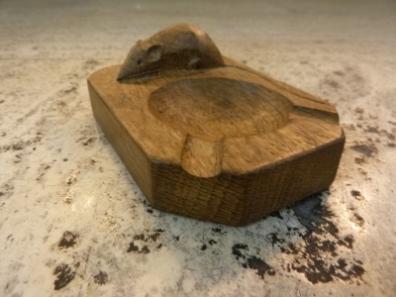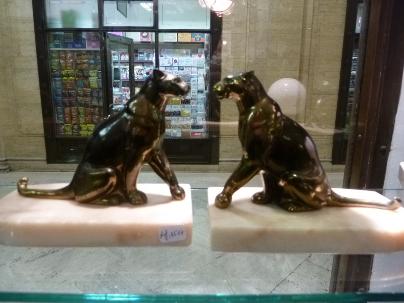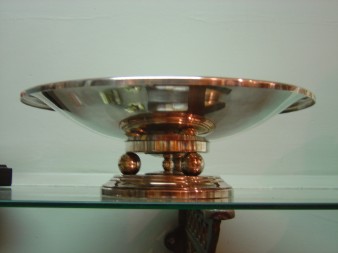 Silver Plated Tazza SOLD
French 1930's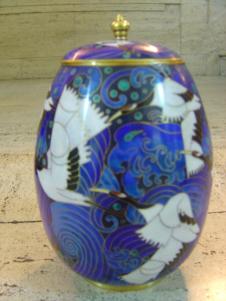 Cloisonné Deco Jar of Flying Cranes in Geometric Swirls SOLD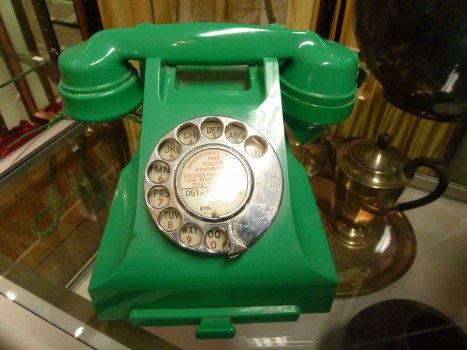 Green bakelite Phone 300 series
The rarest colour SOLD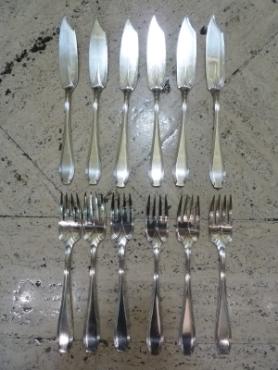 WMF Fish knives and forks SOLD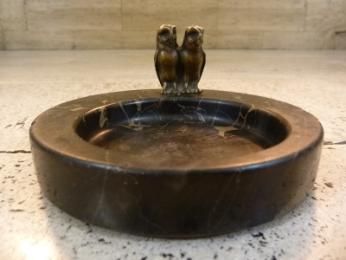 Marble and Bronze Vide Poche 5cm high SOLD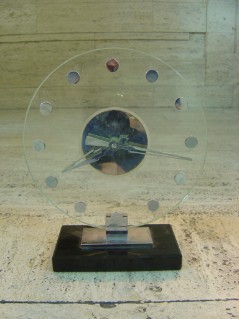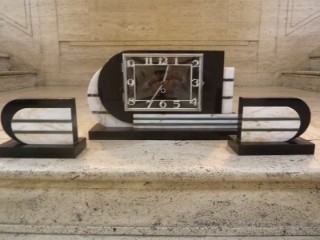 Art Deco Mantle Clock of Marble Slate and Metal Banding 45 cm long by 25cm high (movement has been replaced with a modern one) SOLD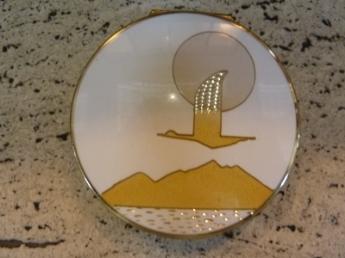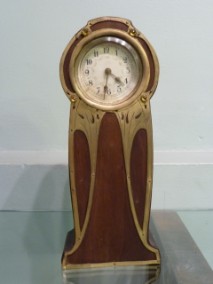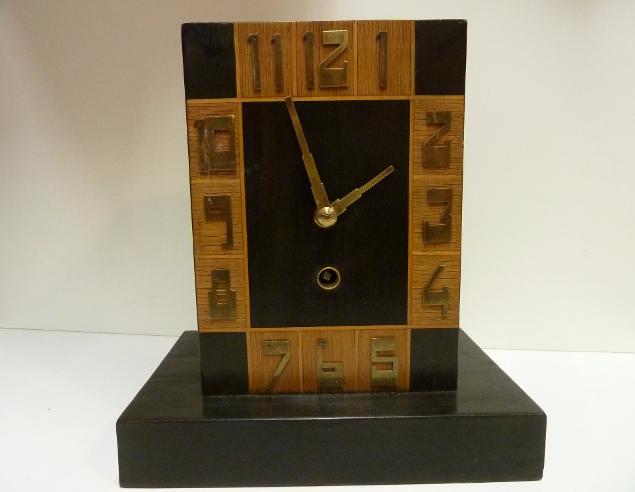 Art Deco Clock 22cm high Continental, thought to be French.
Various woods make up the constuction. Ebony, boxwood etc. Working Order. Has original key. SOLD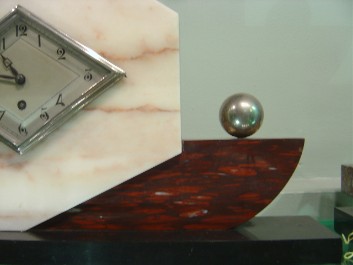 Marble and Onyx Art Deco Clock
SOLD