CONSULTATION SERVICE. Insurance and Probate Valuations.
Please email waynecolquhoun@gmail.com for further details of any object. I can ship worldwide.
Stylised Art Deco Strident Growling Tiger
Bronze Patinated Spelter on Belgium Slate Base.
65cm long by 23cm high.
French 1930
£780
The Tradition of The French Animalier of the 19th century gave rise to the Animalier as Geometric Art in 1920's France and other parts of Europe too.
Bulio, Jean Ronald (1827-1911) French late 19th century Bronze
17cm high.
Beautiful patina, unsigned £495
Bathing Venus more widely known as The Crouching Venus.
This study, after the antique is mid 19th century.
The Crouching Venus has been excavated on numerous different Roman sites, in Italy and in France. There are slightly differing versions. But one thing that never changes is the fact that the study captures Venus at he bath, startled, and she very often is depicted with her arm slightly raised to cover her breasts.
She has been an inspiration to sculptures and artists for centuries.
There are, among others, examples in The Louvre Paris, The Uffizi in Florence and The British Museum has an example.
She is Hellenistic in style and has influenced so many artists such as Rubens who painted an 'Allegory' 1612-13, after he saw The Lely Venus then in The Gonzaga collection at mantua.

This example bears its foundry seal.
Bronze. Beautiful Chocolate Patina.
34cm high
£2850
Herbert Tyson Smith (1893-1972) Merman cast in bronze in a marble base.

Eugenio Pattarino 50cm high £1250
"The sculptor and ceramist Eugenio Pattarino was born in Florence in 1885 where he attended the Academy of Fine Art. He was a student of Giovanni Fattori and completing his studies in Venice and Frankfurt.
He started in his artistic as a sculptor by making interesting marble artworks. In the late 1930s he launched a ceramic workshop with his son Ranieri, called "C.A.P.E.F." (Professor Eugenio Pattarino Artistic Ceramics), located at the address Via Squarcialupi 2 in Florence. Here he made pottery, majolica artworks and utilitarian objects in modern, traditional and the antique style. During the post-war years, the workshop was joined by a wide selection of great potters from all over Italy.
Eugenio Pattarino retired as a ceramist in 1966 and died in Florence in 1971 "
Pair of Bronze sculptures of musicians. 29 cm high.
Continental Possibly Italian 1860.
Beautiful Chocolate Brown Patina.
The Instruments being played by the artist on the right is known as an Askaulus combining the greek words aulos and askos, which is similar to a bagpipe. It was known in Italy around the second century BC and was said to humm or buzz, like a wasp.
£2450 The Pair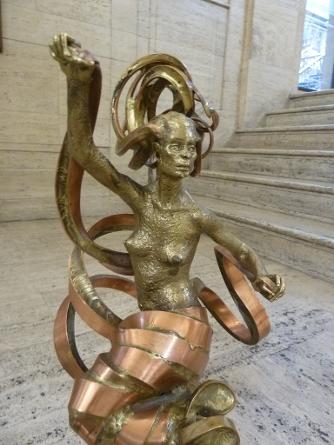 Sean Rice......I am interested in purchasing work by this artist.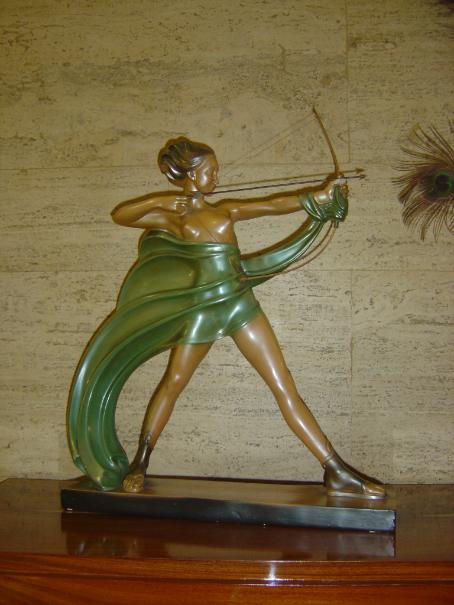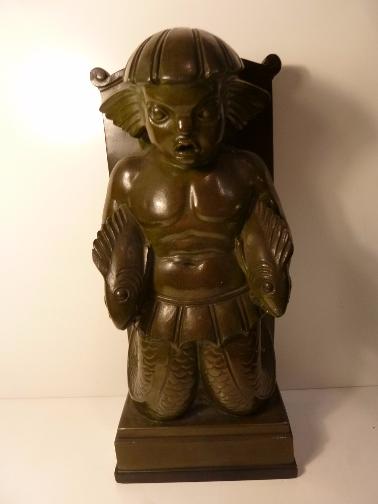 Herbert Tyson Smith Bronze Merman signed in the bronze. SOLD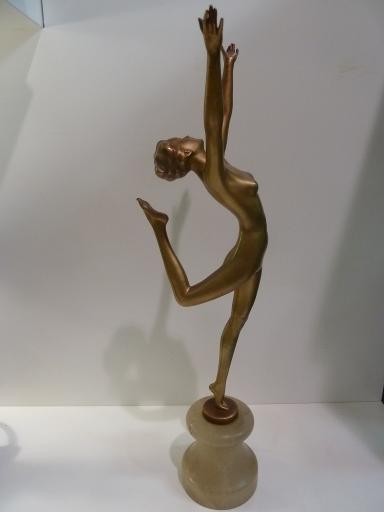 Lorenzl Figurine 41cm high.
This sculpture is often referred to as Arabesque SOLD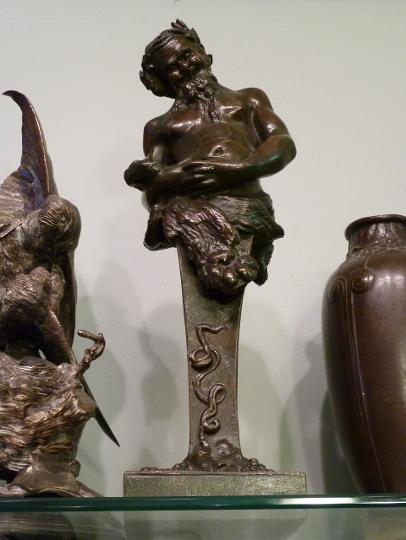 A Bronze Sculpture signed Clodion. 30cm high No Longer Available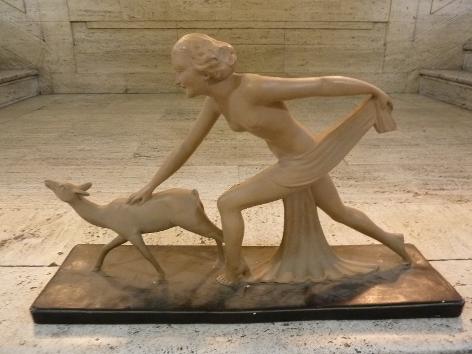 Plaster Study 43cm high SOLD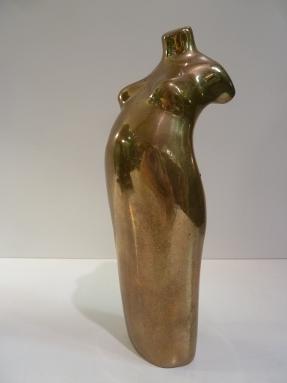 Modernist Polished Bronze signed in the bronze Mougrit 132 of 500 18cm high. No longer Available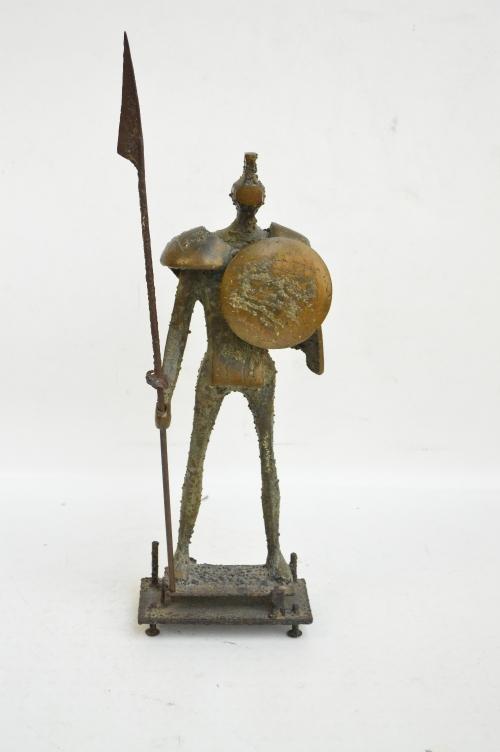 Arthur Dooley Centurion 74cm high SOLD

Panther French 1930 Spelter 40cm long by 23cm high SOLD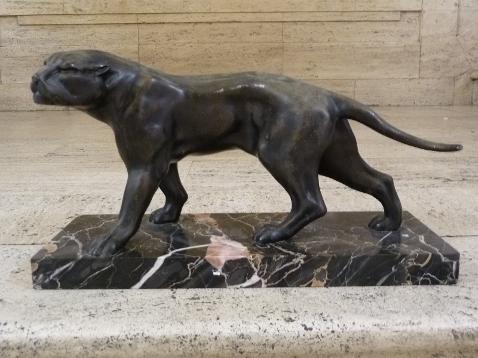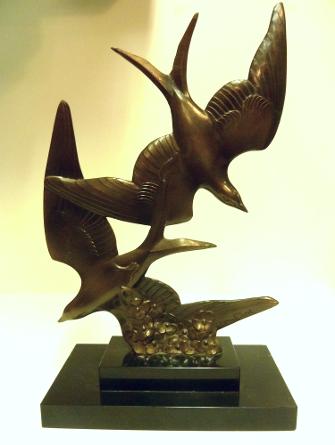 Hirondelles signed M.Font in the bronze. French 1930. SOLD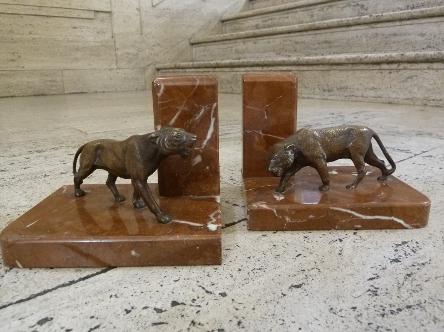 Bronze Bookends of a pair of Tigers on African red Marble base
Quality casting £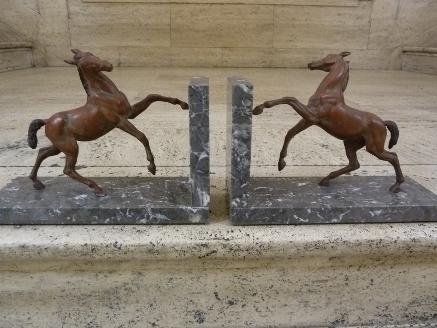 Pair of stylised bookends of prancing foals
French £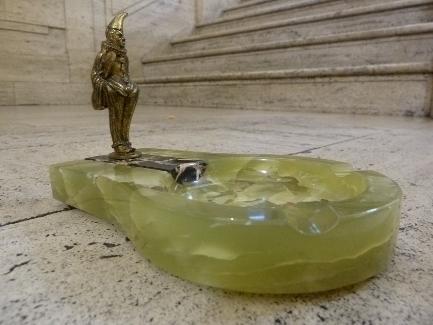 Pierrot Vide poche Bronze on a onyx base 12cm high SOLD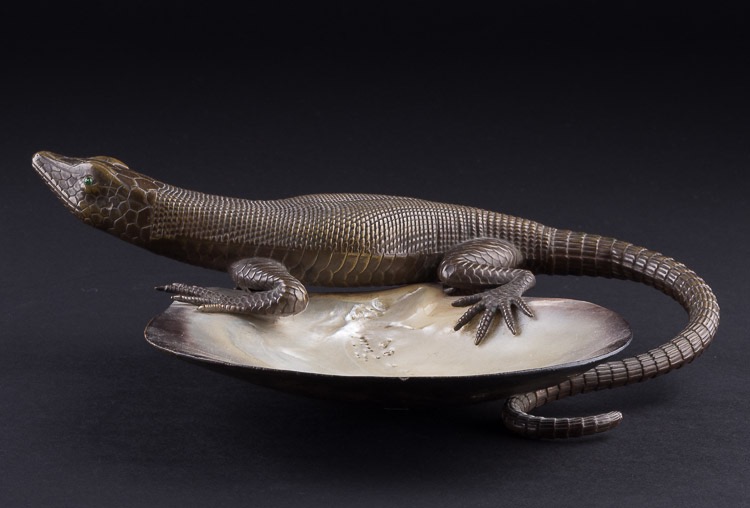 Bronze Lizard Perched on a Shell. Probably Vienna and late 19th Century. It has green gemstone eyes and the casting is so realistic it nearly bit me. 27cm long SOLD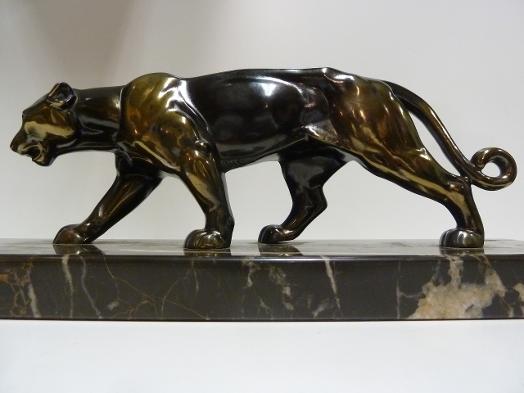 Panther Art Deco French, Spelter on marble base, 1930's 40cm long by 15cm high Excellent Condition SOLD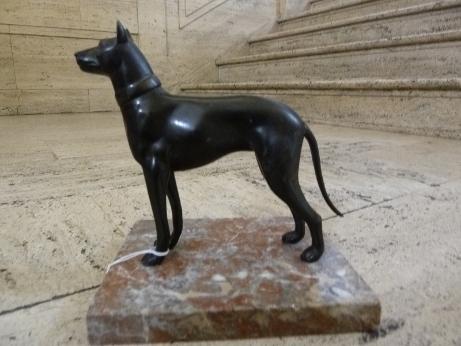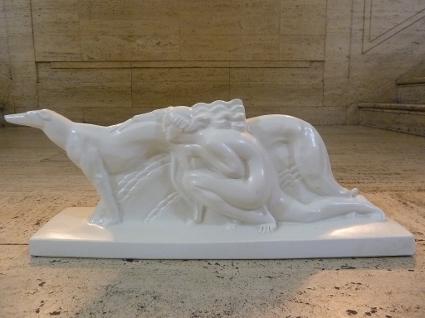 Diana The Huntress
Lejan Craquelle Glazed SOLD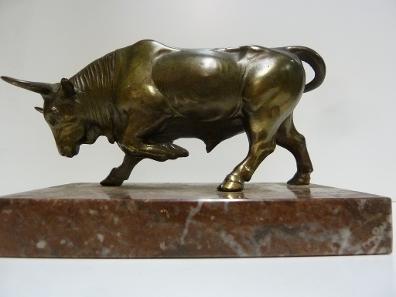 Bull Sculpture 9cm high Bronzed Spelter
French SOLD

Pr of bronze vases 21cm high. On bronze square bases.
I cant quite work out if these are Japanese or French Art Deco as the design is so deco but the feel is of Japanese bronze. Either way, they are beautiful and SOLD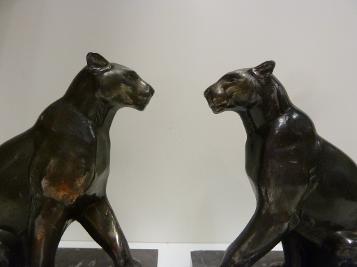 Art Deco Bookends of Panthers
Spelter 1930's SOLD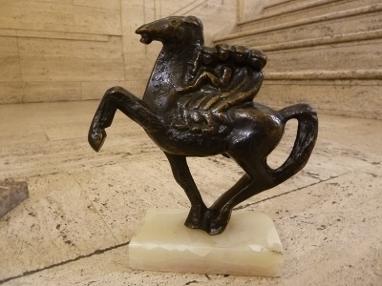 Bronze signed 19cm high £SOLD
Bronzed Spelter 41cm high SOLD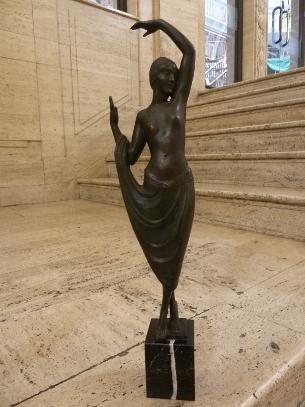 Bronze in the style of Le Faguays 48cm high SOLD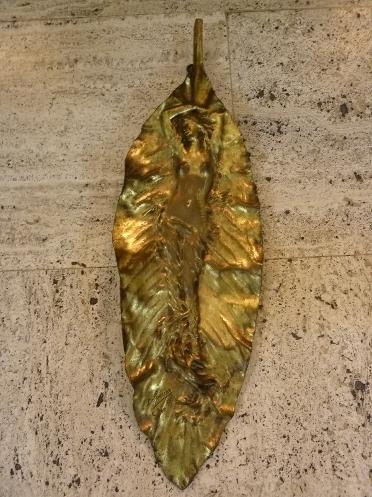 Delperier signed Bronze plaque SOLD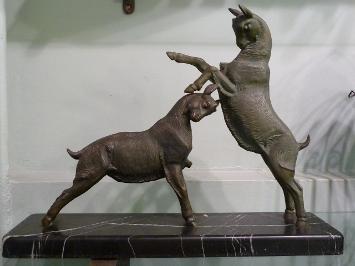 A spelter group of a pair of playful Billy Goats on a black marble base. Exellent condition.
French 1930's . SOLD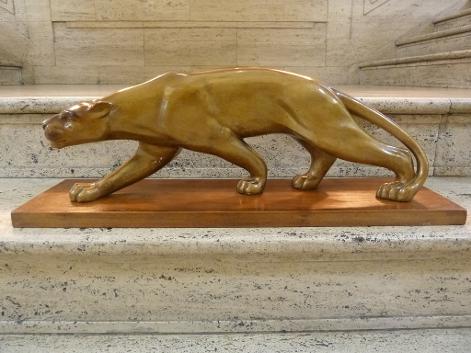 Plaster Panther base 26inches long SOLD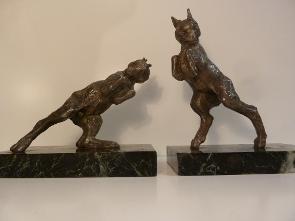 Billy Goat Bookends 1930's Bronzed Spelter 22cm maximum height SOLD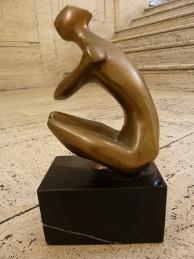 Polished Bronze 21cm high signed Pat Rowland in the bronze
SOLD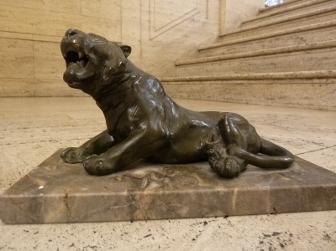 Tiger on Marble base
Continental 25cm long
SOLD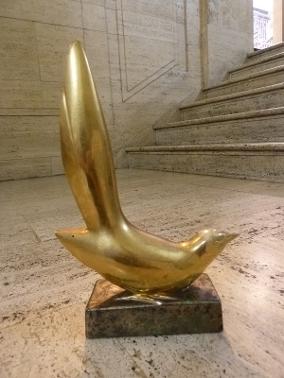 Stylised bird gold lustred ceramic SOLD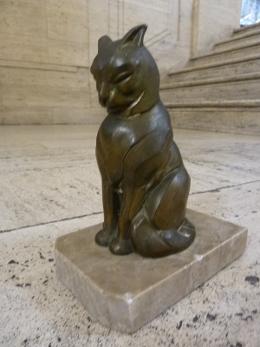 Bronzed metal stylised cat 17cm high
Signed Franjou SOLD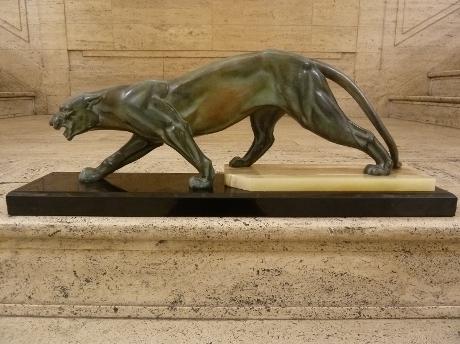 Bronzed Spelter Strident Panther 65cm long SOLD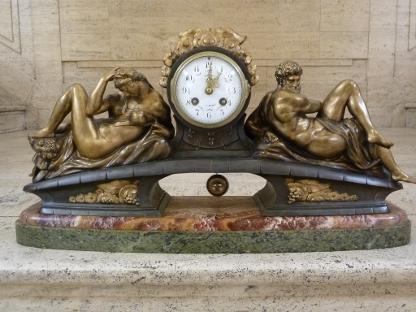 Though made on the 1930's has been inspired by Night and Day figures that flank each side of the tomb that was sculpted by Michaelangelo SOLD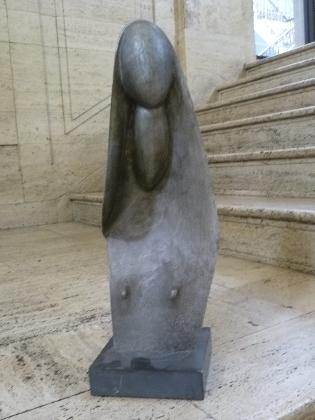 Taylor Earnshaw a local Liverpool sculptor. Cast in AluminiumSOLD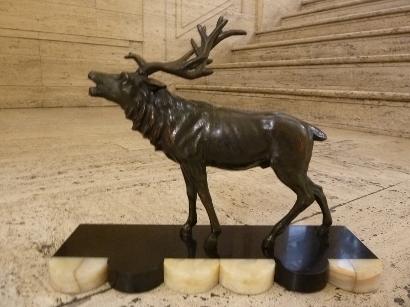 Art Deco Bronzed spelter Stag on a very unusual Marble and Belgium Slate base 26cm 22cm high Continental SOLD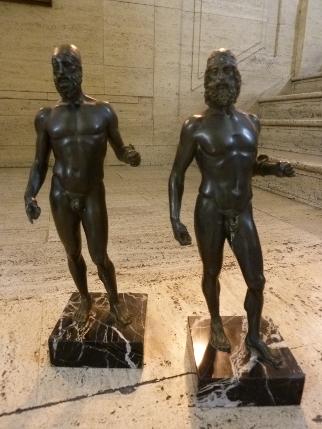 Grecian statues after the antique RESERVED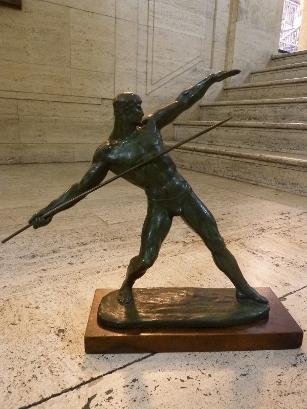 Lost Wax sculpture signed in the bronze Gucia RESERVED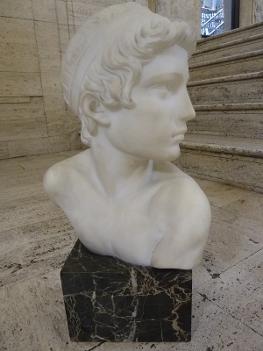 Marble Bust 44cm high SOLD
Carved Granite Sculpture 46cm high SOLD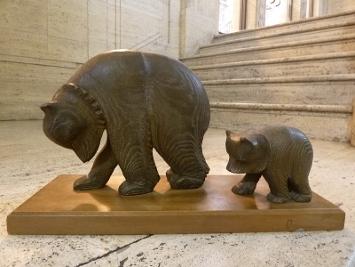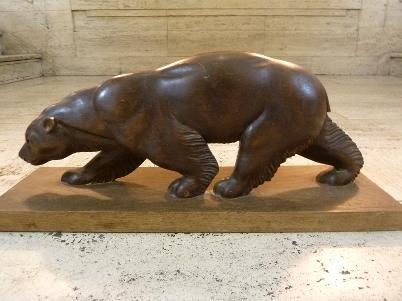 Carved wooden sculpture signed L. Houseaux SOLD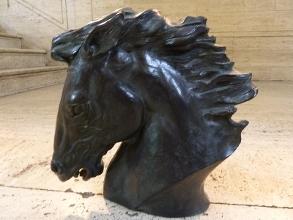 Horses Head Plaster with a bronze patination
Lemanceau Horse glazed pottery 41cm high
SOLD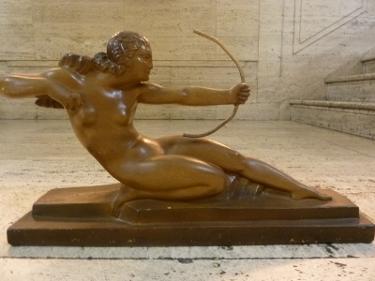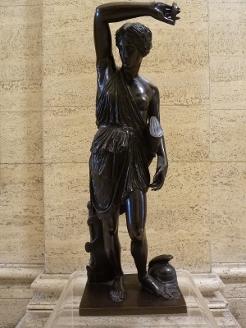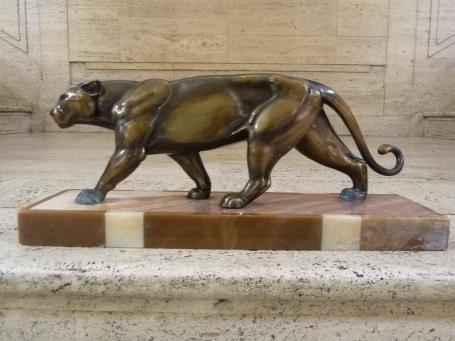 Spelter on Marble and Onyx base SOLD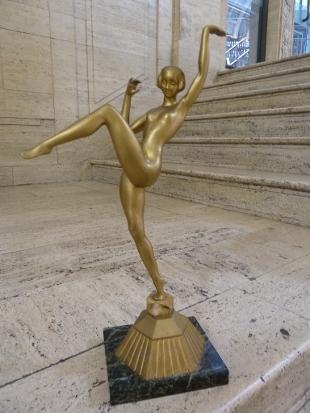 Art Deco spelter figurine 46cm high SOLD
ODYV Sculptural clock and garnitures SOLD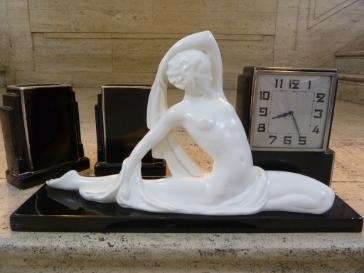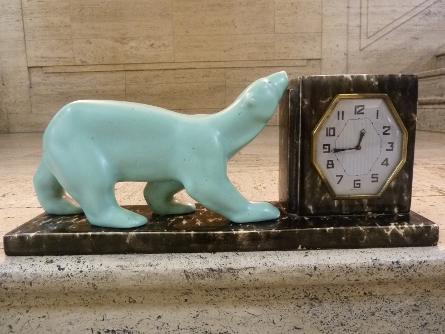 ODYV Polar Bear with clock SOLD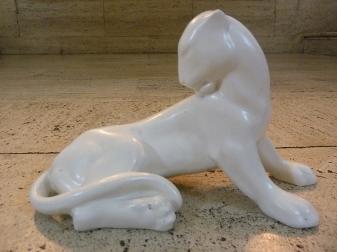 White glazed earthenware 20cm high SOLD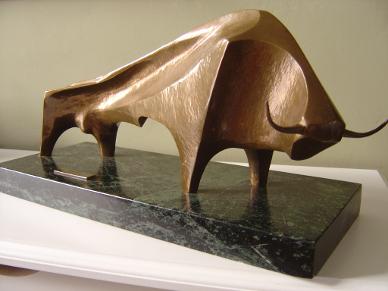 Arthur Dooley Bull SOLD Marked AD94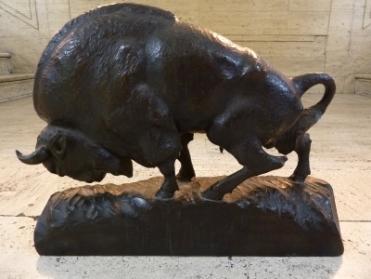 An amazing quality carved wood study of a Bison. The patina is so amazing it looks Bronze SOLD
Signed ARTENS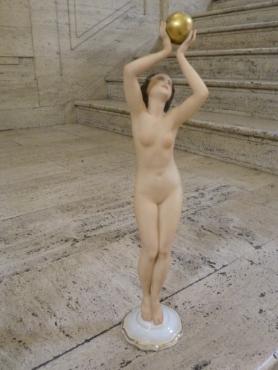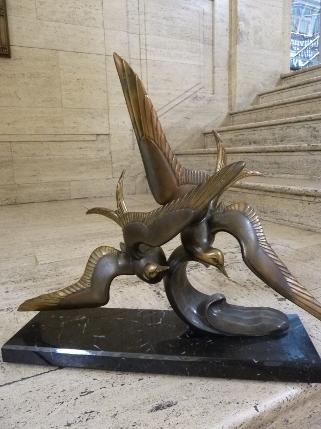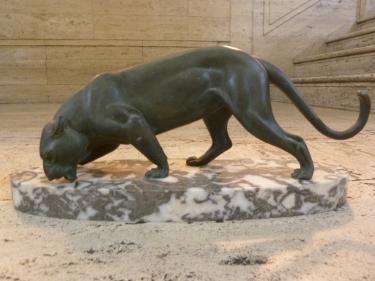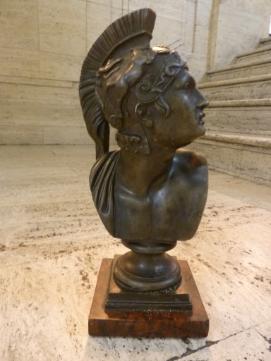 Grecian bust on marble socle. SOLD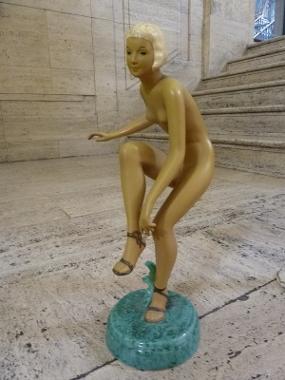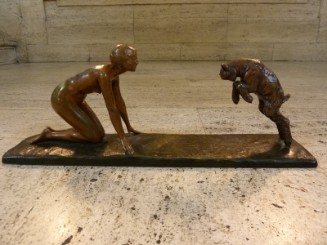 Sylvestre Bronze signed with the Suisse Frere Foundry Mark.
41cm long by 16cm high SOLD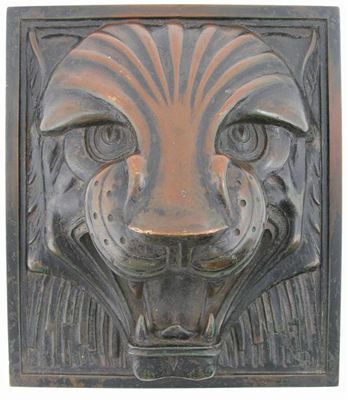 Bronze Hanging Plaque of A Stylised Tigers Head.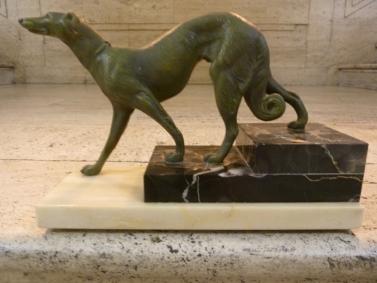 Borsoi on Marble and Onyx base SOLD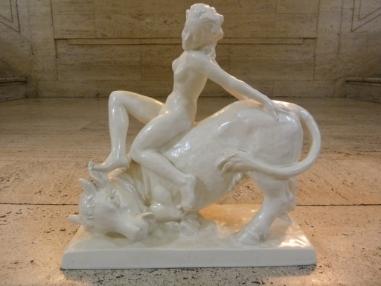 Europa and the Bull 31cm high SOLD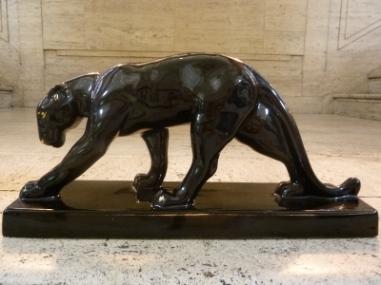 Stalking Panther Ceramic Signed Jean SOLD see ceramic section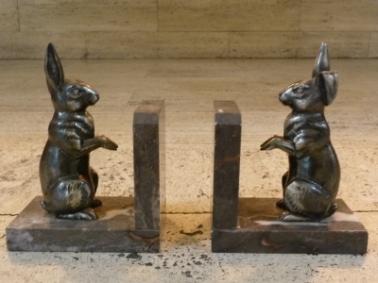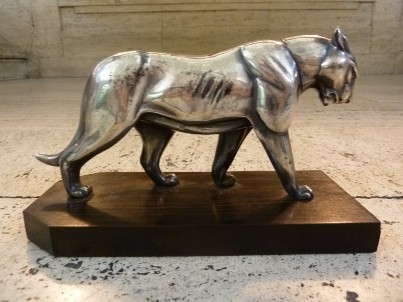 Silvered Study of a Panther 11.5cm high
SOLD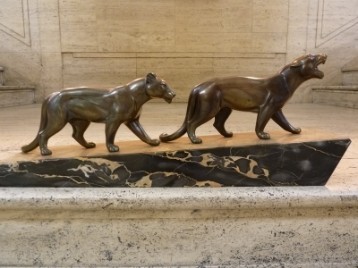 Spelter Study 23cm high by 61cm long
French 1930's SOLD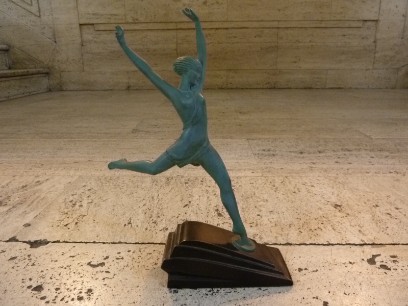 Signed Fayral 28cm high SOLD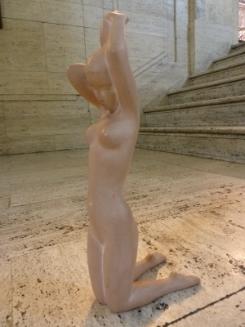 Terracotta figurine 33cm high SOLD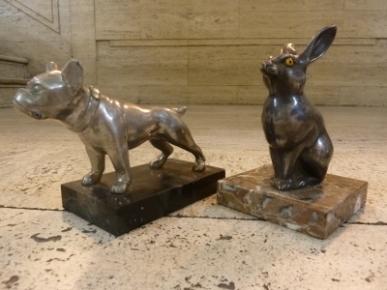 Sculptures French 1930's SOLD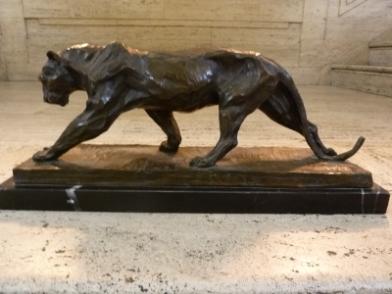 50cm long No Longer available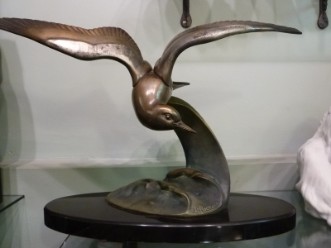 Rochard Tern Cresting A Wave Frnch 1930's SOLD
I think this may in fact be a Storm Petrol which lives all year round at sea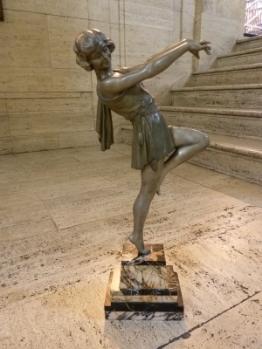 Art Deco Spelter Figurine 52cm Tall SOLD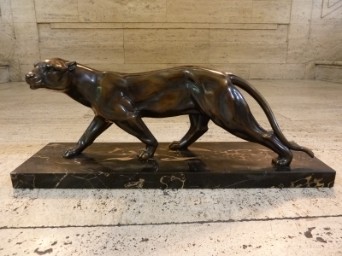 Bronzed Panther 54cm long by 21cm high
SOLD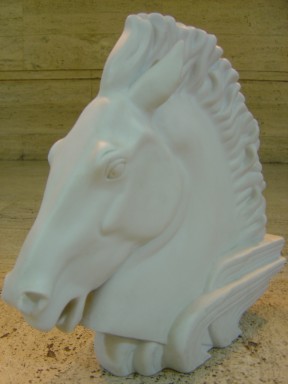 An Amazing Stylized Horses Head
SOLD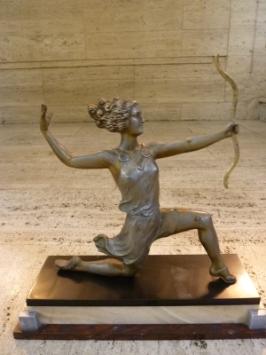 Spelter Diana 34cm High
French 1930's SOLD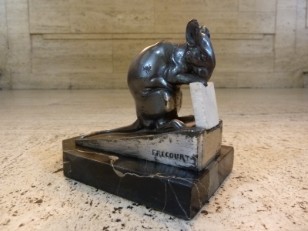 Mouse by Frecourt. A playful sculpture of silvered spelter on a marble base. The cheese is marble. 10cm high. £SOLD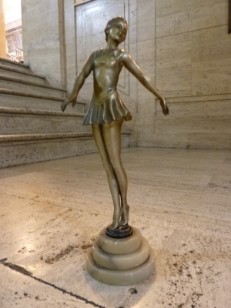 Spelter Figurine 1930's SOLD
English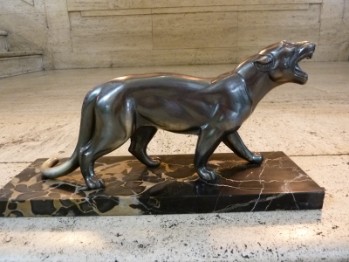 Spelter Art Deco Stylised Panther
35cm long by 16cm high
SOLD
Bathing Venus 26cm high SOLD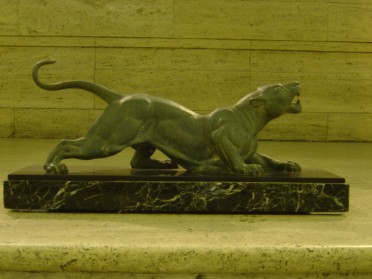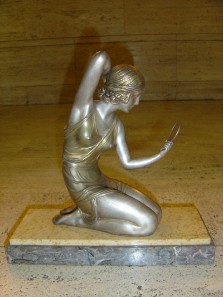 A Spelter Study by Chiparus SOLD